Warm Intros: Johnson & Johnson Innovation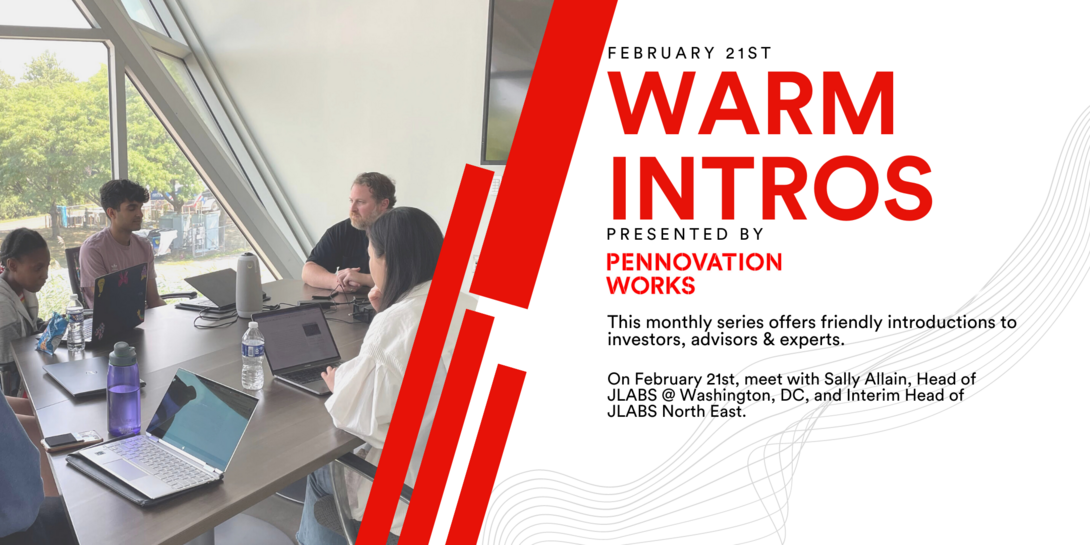 A warm introduction to Johnson & Johnson Innovation!
On February 21st, meet Sally Allain, Head of JLABS @ Washington, DC, and Interim Head of JLABS North East. Sally will share an overview of JLABS and JPOD @ Philadelphia, core areas of interest, and best practices when engaging with strategic partners.
Johnson & Johnson Innovation – JLABS is a global life science network for innovation, providing startups with access to capital-efficient lab space and resources, including expertise, community, industry connections and entrepreneurial programs.
Sally Allain, MBA, M.S., is Head of JLABS @ Washington, DC, and Interim Head of JLABS North East. Sally sets the strategic direction and oversees all operational activities for JLABS in the greater Washington metro region, including Maryland and Virginia. In this role, Sally is responsible for the process of evaluating and selecting a strong portfolio of innovators for JLABS @ Washington, DC, and building strategic partnerships with corporate, academic, government and industry organizations that aim to strengthen the region's life sciences innovation network.
Sally joined JLABS after serving as Senior Director, Strategy & Operations on the Global External Innovation team at Johnson & Johnson, where she supported portfolio management and reporting and strategic business development efforts across the organization. Prior, Sally was with Janssen R&D, Immunology, where she managed a team in research operations and alliance management for the early discovery to early development portfolio. Sally understands well the needs of healthcare entrepreneurs, having launched her research career at a San-Diego based biotech startup and then working internationally for a UK-based governmental economic development agency creating early-stage biotech and academic collaborative programs aimed at accelerating the development of products to address the needs of patients and consumers.
Following the presentation, Sally will meet 1-on-1 with companies that have signed up for virtual office hours*.
*Office hours open to Pennovation Works and PCI Ventures companies only.
Details
Tuesday, Feb 21 2023 – 12 to 12:45pm
Warm Intros: Johnson & Johnson Innovation
Pennovation Center, 3401 Grays Ferry Avenue , Philadelphia, PA 19146
39.941722425758, -75.199505488484