Warm Intros: Harmonix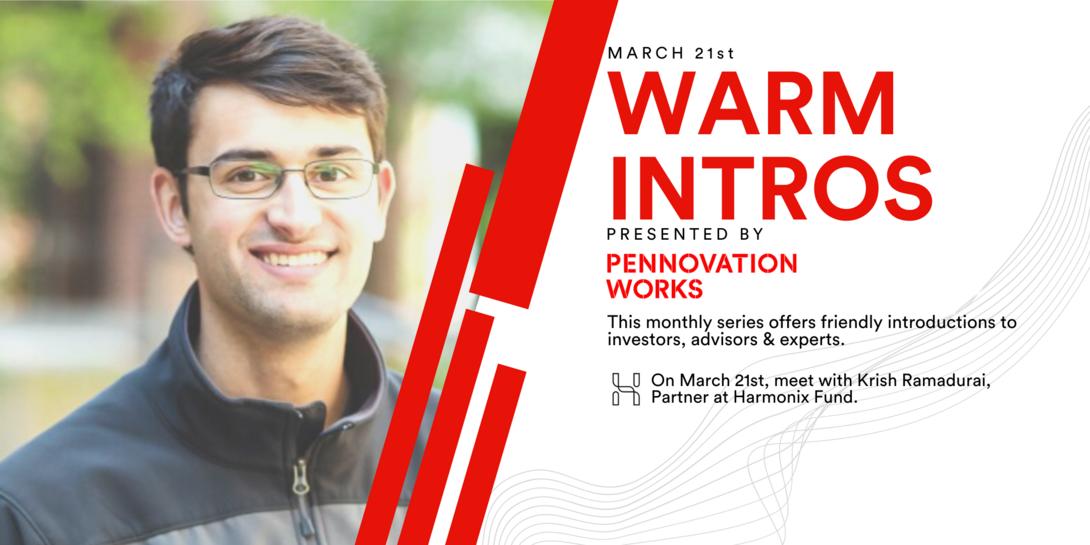 On March 21st, meet Krish Ramadurai, Partner at Harmonix Fund. Krish will share an overview of Harmonix, core areas of interest, and best practices when engaging with a VC.
Harmonix invests in technological breakthroughs that will help create a future for a healthy, operational, and peaceful civilization. The fund focuses on exceptional entrepreneurs and innovative healthcare, life sciences, and deep tech companies. Harmonix is a multi-disciplinary team comprising scientists, researchers, operators, entrepreneurs, and industry experts with over 70 years of cumulative experience.
 
Krish Ramadurai is a Partner at Harmonix Fund and leads the firm's technical due diligence, investment sourcing, and portfolio operational support across their healthcare, life sciences, and deep technology practices. At Harmonix, he manages a top-decile performing portfolio of 40+ companies with an enterprise value of over $7 Billion with numerous major scientific breakthroughs, including the world's first AI-designed drug to enter clinical trials to the launch of the first commercial rideshare satellite into space.
He is a multi-published author, advisor, lecturer, and former researcher at Harvard & MIT. While at Harvard, he worked with Nobel Laureate Economist Michael Kremer on the United States Agency for International Development's Innovation Ventures Fund and published three internationally-released books on applied engineering and medicine. Furthermore, he is a board observer for Sorcero and xCures and a venture advisor for Nucleate. He earned triple master's degrees in nanomedicine, biology, and business administration from Oxford University, Harvard University, and Washington University in St. Louis, respectively, and a bachelor's degree in integrative biology and economics from the University of Illinois at Urbana-Champaign.
Following the presentation, Krish will meet 1-on-1 with companies that have signed up for virtual office hours*.
*Office hours open to Pennovation Works and PCI Ventures companies only.
Details
Tuesday, Mar 21 2023 – 12 to 12:45pm
Pennovation Center, 3401 Grays Ferry Avenue , Philadelphia, PA 19146
39.941722425758, -75.199505488484