PCI Ventures Office Hours with Yi-Yen Chen [Virtual]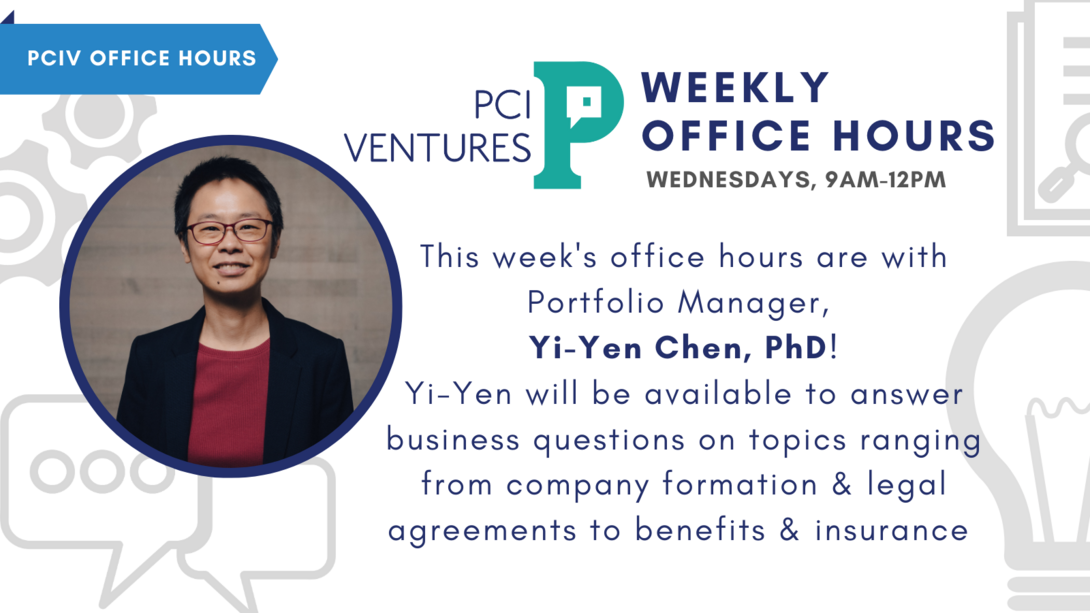 Each week, a member of the PCI Ventures team will be available to answer business questions on topics ranging from company formation and legal agreements to benefits and insurance. Anyone is welcome to take advantage of the office hours, so please sign up!
----
This week's office hours are with Yi-Yen Chen, PhD, Portfolio Manager. They will be virtual; sign up for a time here!
Dr. Yi-Yen Chen has over 10 years of healthcare-related experience. Prior to joining PCI Ventures, she oversaw the life sciences investment and portfolio management at Echo Investment Capital. She also worked in business development and drug licensing at Microbio Group in Taiwan. Dr. Chen was the R&D project head and led the development of the world's biggest antibody portfolio for the zebrafish research community at GeneTex. She completed her PhD in developmental biology from Nobel Laureate Professor Christiane Nüsslein-Volhard's lab at the Max-Planck Institute in Germany. Her postdoctoral training was in molecular biology at the Institute of Molecular Biology in Mainz, Germany, and in cancer immunotherapy at the Netherlands Cancer Institute in Amsterdam.
Details
Wednesday, Dec 20 2023 – 9am to 12pm
PCI Ventures Office Hours with Yi-Yen Chen [Virtual]
Office hours will be hosted virtually