Mentor-in-Residence Office Hours with Sofija Jovic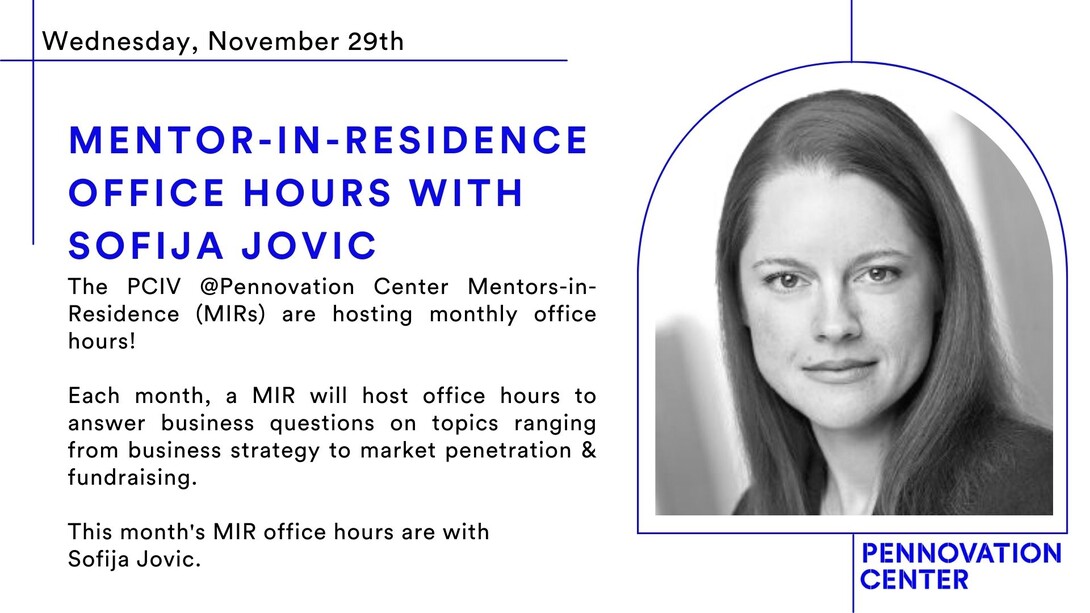 The PCIV @Pennovation Center Mentors-in-Residence (MIRs) are hosting monthly office hours!
Each month, one Mentor-in-Residence will host virtual office hours to answer business questions on topics ranging from business strategy to market penetration & fundraising.  PCI Ventures portfolio companies and Pennovation Center members are welcome to take advantage of these office hours, so please sign up!  
---
MIR office hours this month will be hosted by Sofija Jovic.  Sofija Jovic is focused on applying research and digital health innovation to transform the life science and healthcare industries. As an entrepreneur and business executive, Sofija has developed a reputation for commercializing innovation and creating new market opportunities.
About the Mentor-in-Residence Program
The Mentor-in-Residence (MIR) Program pairs startup companies with accomplished entrepreneurs and industry leaders who serve as informal advisors. The Mentors participate in the development of PCI Ventures portfolio companies and Pennovation Center members, providing advice on business strategy, market penetration and fundraising. The Mentors also bring with them a wide network of contacts that the companies will be able to leverage.
Details
Wednesday, Nov 29 2023 – 9am to 12pm
Mentor-in-Residence Office Hours with Sofija Jovic
Office hours will be hosted virtually