Mentor-in-Residence Office Hours with Adam Dakin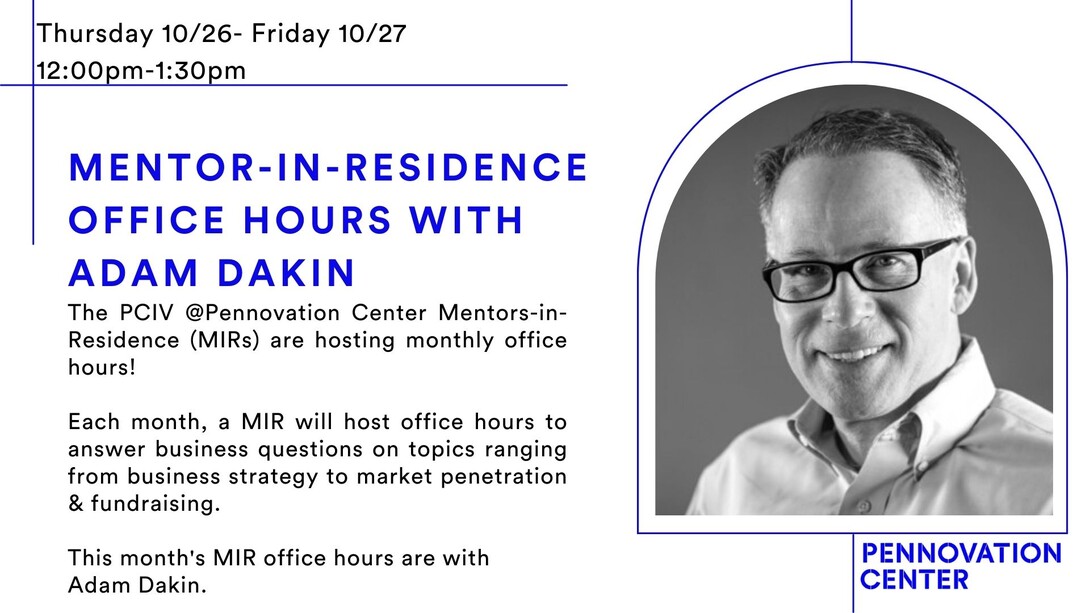 The Pennovation Center Mentors-in-Residence (MIRs) are hosting monthly office hours!
Each month, one Mentor will host virtual office hours to answer business questions on topics ranging from business strategy to market penetration & fundraising.  Pennovation Center members and PCI Ventures portfolio companies are welcome to take advantage of these office hours, so please sign up!  
---
October's MIR office hours will be hosted by Adam Dakin.  Adam serves as the Partner for Dreamit Healthtech, a leading venture-backed accelerator. His career has focused on building early-stage venture-backed health tech companies.  Adam has held various senior management roles in sales, marketing, product development, clinical affairs, operations, and general management. He co-founded five health technology companies which have collectively raised over $60M in early-stage capital. He is an active angel investor and has served on the boards of several early-stage health companies. Adam holds a BSE from the Wharton School and an MBA from UCLA.
About the Mentor-in-Residence Program
The Mentor-in-Residence (MIR) Program pairs startup companies with accomplished entrepreneurs and industry leaders who serve as informal advisors. The Mentors participate in the development of PCI Ventures portfolio companies and Pennovation Center member companies, providing advice on business strategy, market penetration and fundraising. The Mentors also bring with them a wide network of contacts that the companies will be able to leverage.
Details
Thursday, Oct 26 2023 – 12pm to Friday, Oct 27 2023 – 1:30pm
Mentor-in-Residence Office Hours with Adam Dakin
Pennovation Center, 3401 Grays Ferry Avenue , Philadelphia, PA 19146
39.941722425758, -75.199505488484