Catching up with Pennovation Accelerator Alumni
In anticipation of this summer's 3rd annual Pennovation Accelerator launching June 8th, we caught up with five alumni of the program to celebrate their recent growth and learn what the Pennovation Works community has meant to them.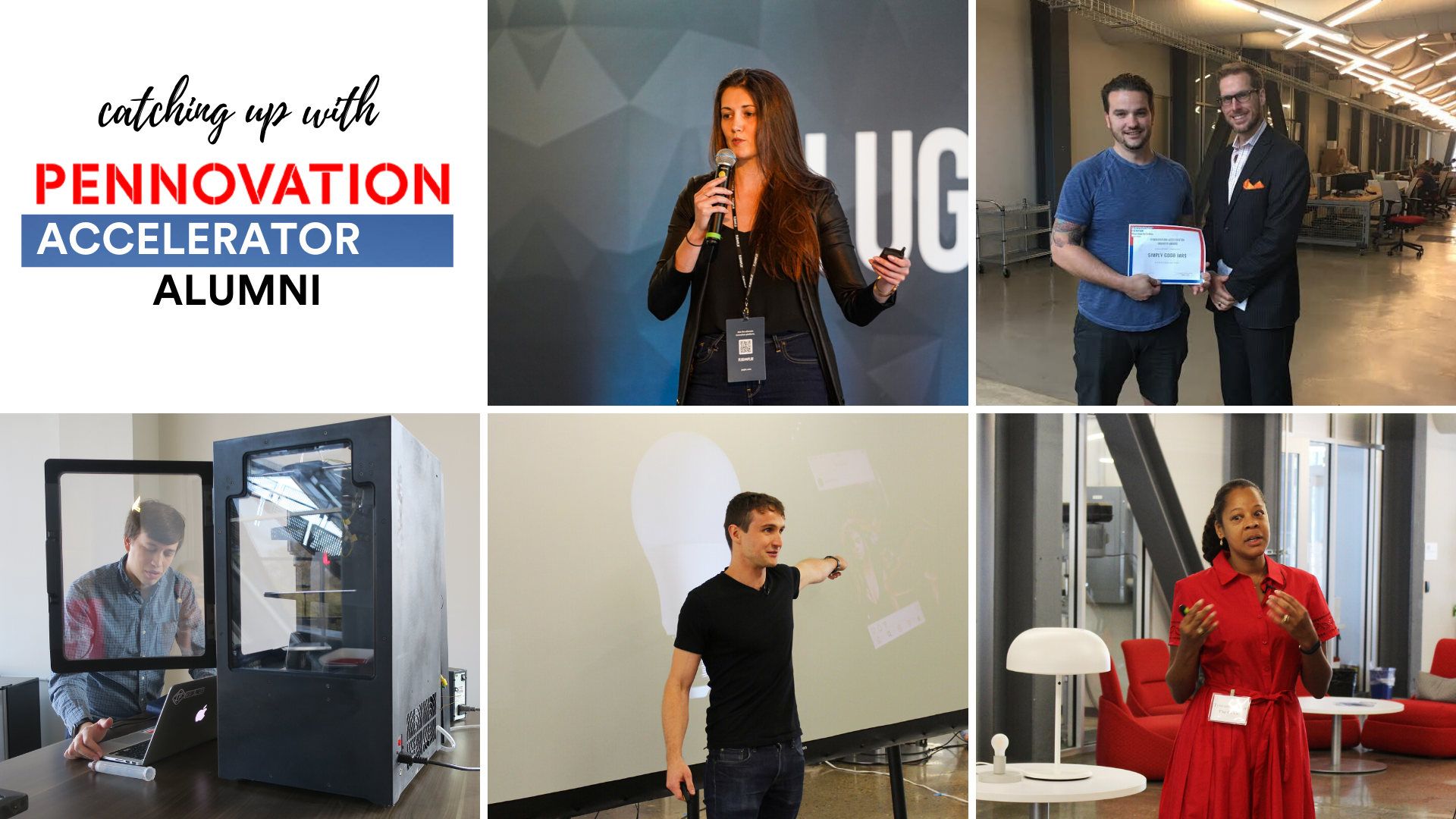 Founders, clockwise starting top center: Arianna Armelli, Jared Cannon (pictured with Penn's Associate Vice Provost for Research, Michael Borda, right), Tyiwanna Carter, Greg Yeutter, Evan Weinstein
---
Arianna Armelli, Founder & CEO of Dorothy
2018 Pennovation Accelerator Alum; Winner: Most Improved
 
After completing the 2018 Pennovation Accelerator, founder Arianna Armelli has taken her company, Dorothy, on to the following opportunities:
"I attended the Pennovation Accelerator when I had an idea for a company, I wasn't quite sure what to make of it or the logical next step. The Pennovation Accelerator helped to formulate that idea into structure leading me through the process of ideation to company," Armelli shared.
 
Dorothy is now a team of 4, including co-founder and fellow University of Pennsylvania grad student Claudio Angrigiani. Together, Arianna and Claudio have responded to feedback from a variety of advisors and investors and pivoted Dorothy from mapping software to the insurance tech industry. Dorothy officially opened their first round of investment in April and are excited to have the support of the Plug & Play Tech Center community.
 
When speaking about what the Pennovation community has meant to her, Armelli said that "having a community to help guide me through the early stages of development was crucial. The ups and downs of entrepreneurship can take a toll on you and having that support system to talk through ideas can make all the difference. I know it did for me."
---
2018 Pennovation Accelerator Alum; Winner: Best Pitch
Since the 2018 Pennovation Accelerator, Simply Good Jars has continued to grow its Philadelphia presence and beyond. Some company highlights include:
Simply Good Jars has been demonstrating their commitment to the Philadelphia community by donating free meals to local hospital teams as they respond to COVID-19. Jared and the Simply Good Jars team hope to continue their efforts throughout the duration of the crisis with a little help from the community.
In thinking about the Pennovation community, Jared shared that it "isn't just a stunning space you can't help be inspired by, it's more than that...it's a community of creators, thought leaders, a safe haven and a place to challenge everyone equally. The community of people are some of the very best intentioned and connected in the Philly ecosystem and have played pivotal roles in our success and helped guide us through lower less favorable times."
When asked what advice he would give to those participating in this summer's Accelerator, Jared said, "you get out what you put in. Be prepared to put all your ideas out on the table to be challenged. Be prepared to practice your pitch (even though it may be awkward). Be prepared to make life lasting friends and connections and be prepared and open to thinking differently about your idea, business or vision."
---
Tyiwanna Carter, Founder & Inventor of The OrVac™ 
2019 Pennovation Accelerator Alum; Winner: Overall
Tyiwanna Carter, founder of The OrVac™, has seen incredible momentum coming out of last summer's Pennovation Accelerator. Last fall, she took her pitch to an Amazon Web Services' Startup Day event in Philadelphia and won both the Judges and Crowd Favorite. She has made rapid prototype improvements to her device in collaboration with Archimedic, a medical device development firm, through a grant from CHOP's Pennsylvania Pediatric Medical Device Consortium [see the prototypes below].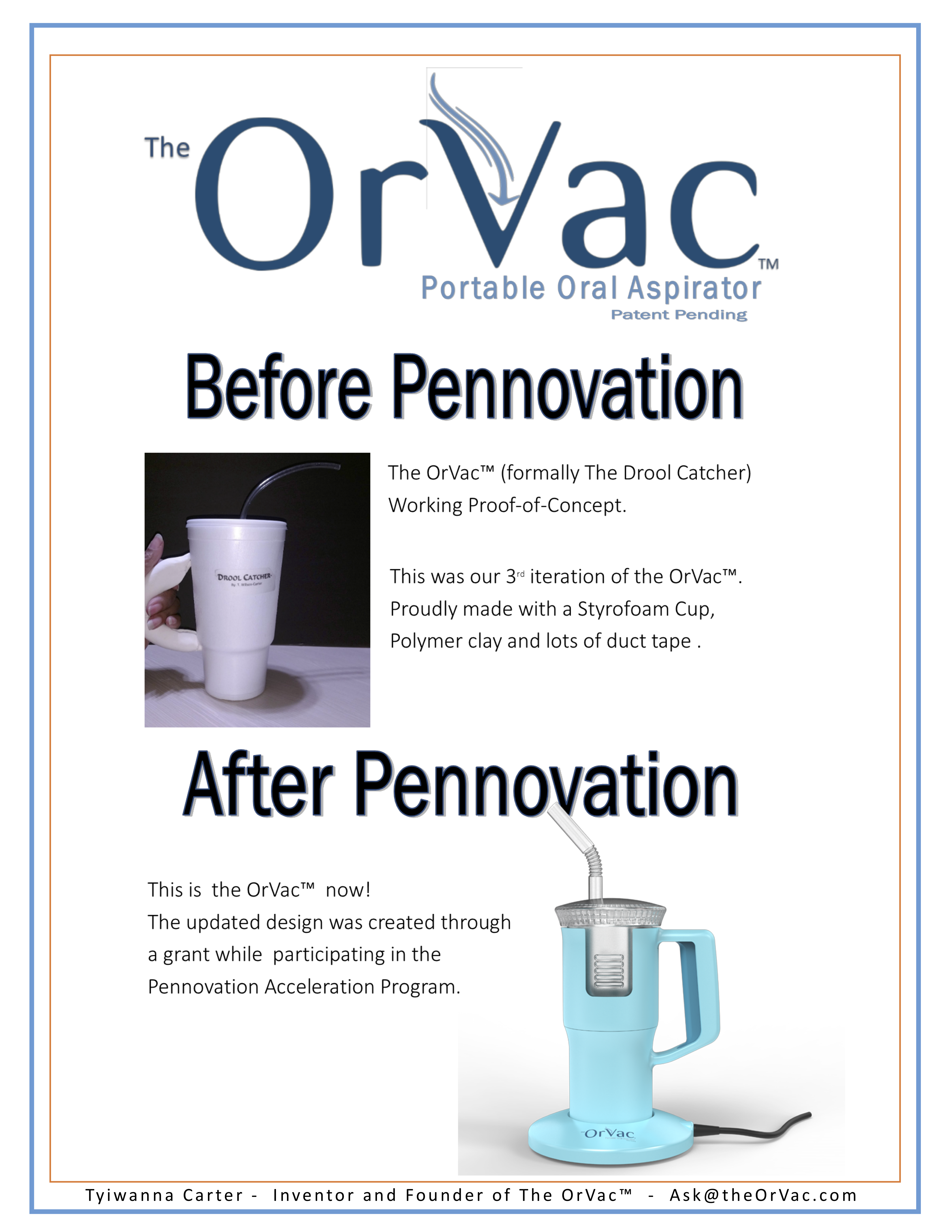 Most recently, The OrVac™ was accepted into the inaugural cohort of the University City Science Center Launch Lane Accelerator.
"The Pennovation Accelerator made me into a Founder," Carter shared. "I am an inventor, I created The OrVac™ (formally The Drool Catcher) to help my mother, and as most inventors do, I had blinders on. I just wanted to make my product. Being a part of the program made me a founder and taught me to concentrate on the business, not just the product." 
"I am not the typical founder. I didn't have the network or the resources that could help move my product to that next step. Since I've been a part of the Pennovation community, I've received grants, legal help and technical help. And, it's not just the staff, it's the other members. They make me feel like I belong." 
---
Greg Yeutter, Founder of Bedtime Bulb
2019 Pennovation Accelerator Alum; Winner: Best Pitch
Since completing last summer's Pennovation Accelerator, Greg has become an invaluable part of the Pennovation Center community. Working out of the Center multiple times per week, he has continued to grow sales on Amazon and work on R&D for new product offerings. He has been able to share his experience with other members of our community, as a helpful advisor on manufacturing and logistics. 
"The Pennovation Accelerator was a great opportunity to meet other like-minded entrepreneurs, get feedback on ideas, to mentor and be mentored, and to develop a great relationship with the 1776 and Pennovation teams," Yeutter shared. In fact, Yeutter has joined in with fellow Pennovation members, InstaHub and Cocoa Press (below), to support the Project SHIELDS efforts to 3D print PPE during the COVID-19 crisis, assisting with engineering challenges.
In thinking about starting a company in Philadelphia, Yeutter reflects that "Philadelphia is not (yet) known as a major startup hub. As a founder here, you have to go out of your way to find places to exchange ideas and meet like-minded individuals. Thankfully, Pennovation is one of several key organizations making Philadelphia a great place to start and scale a company."
---
Evan Weinstein, Founder of Cocoa Press 
2019 Pennovation Accelerator Alum
Since completing the 2019 Pennovation Accelerator, founder Evan Weinstein has grown Cocoa Press from a desk at the Pennovation Center into dedicated office space on the Pennovation Works campus [pictured below]. His company has also tripled in size, with the addition of a second full-time team member this winter and a Drexel co-op student joining for 6 months this summer. 
Cocoa Press is on track to begin preorders for their 3D chocolate printer this fall.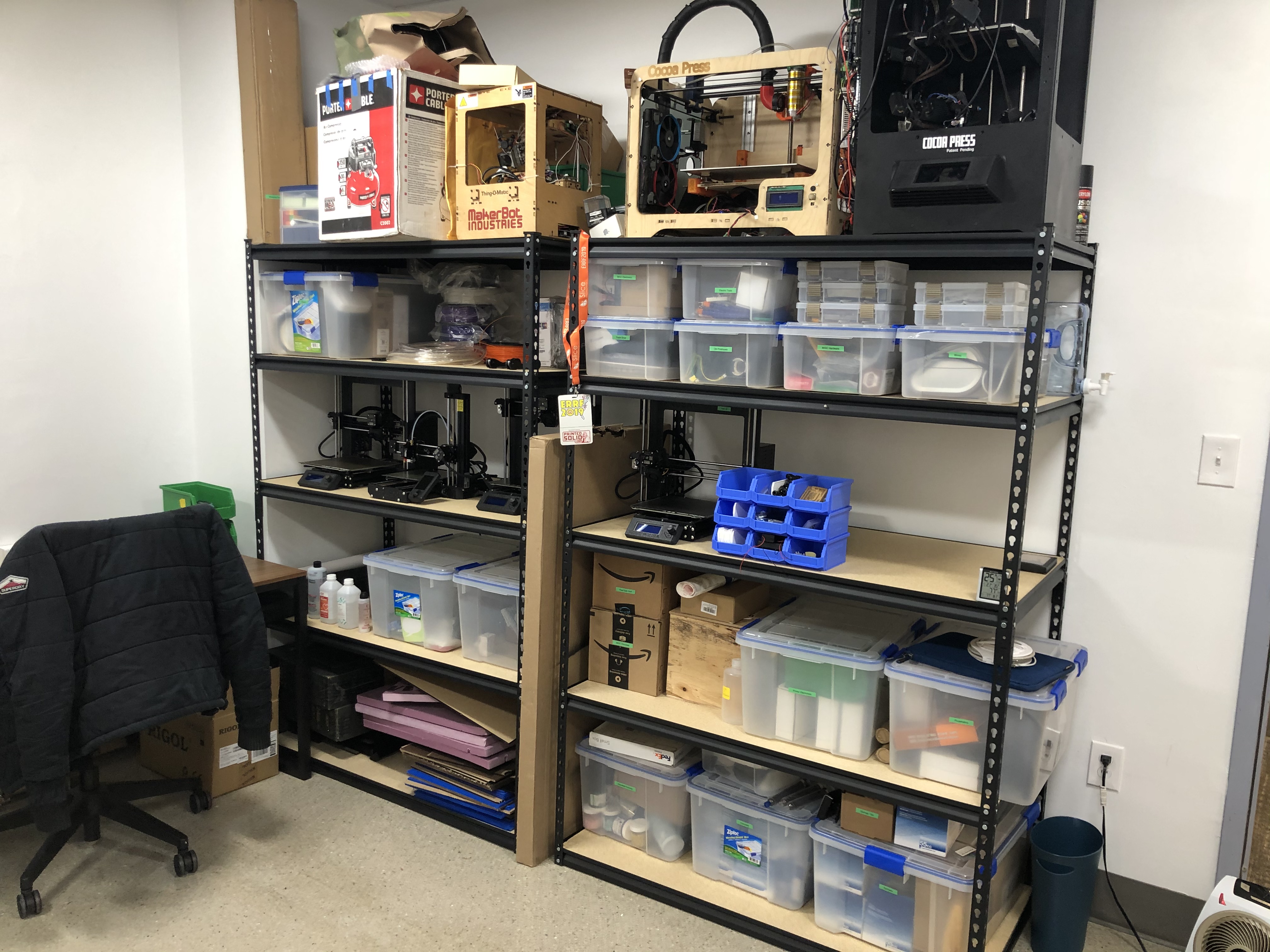 "The Pennovation Accelerator was my introduction into entrepreneurship," Weinstein shared. "It was a superb resource to launch a company and provided endless inspiration and potential for the direction of Cocoa Press. The Pennovation community includes friends, a support network and a wealth of knowledge and ideas. I go to members for advice on large directional questions, advice on a specific design or even just to borrow tools."
In response to the current crisis, Evan has halted Cocoa Press' chocolate operations to work on Project SHIELDS, in partnership with Pennovation Center member, InstaHub, and Philly startup, Fulphil. Together, they are applying their 3D printing expertise and equipment to 3D print face shields for healthcare workers around the clock.